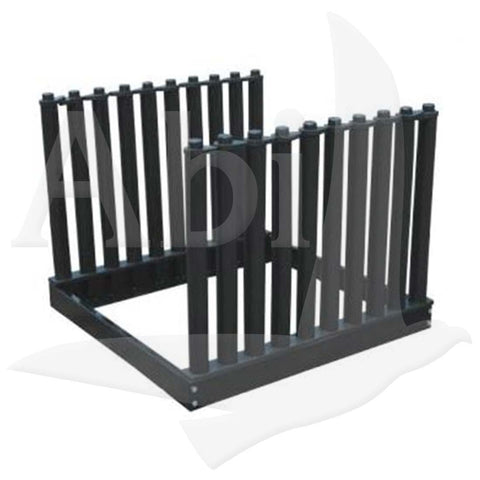 9-lite Windshield Rack for Auto Glass constructed with Premium EPDM Rubber
Made with high quality EPDM Rubber.
The 9-lite Windshield Rack is our top-selling item! This 9-lite windshield rack design with updated materials has the best quality you'll experience. This version of our design features robust construction with sturdier rubber materials made of high quality EPDM rubber.
While rubber gets soft at 100°F, EPDM rubber is suitable for temperatures of -58°F to 302°F. Here are other benefits of EPDM rubber:
EPDM is a weatherproofing material that also extends the life of our windshield racks. 
EPDM is a nontoxic and environmentally-friendly material in high heat, rain, or snow.
EPDM is hypoallergenic.
An absolute necessity for any glass shop, this iron rack is constructed with special posts covered in a foam padding that helps to prevent breakage. The posts are topped with a finger lock to secure the windshield. A useful addition to auto-glass trucks and shops of all sizes, these 9 slot windshield glass racks are preferred for their portability and versatility. At 45lbs, this auto glass rack is the most powerful, yet durable, rack that we carry. For auto-glass shop owners that handle a large volume of windshields, this is the rack to consider. The 9-lite windshield rack can be stored almost anywhere after use.


Product Description:
- Mountable on a truck bed.
- Rack holds up to 9 windshields.
- Posts and base are constructed from iron.
- Posts are covered in EPDM rubber to minimize damage done to windshields.
- Every post is topped with a rubber finger lock to prevent the windshield from slipping out.
Product Details:
- Length: 30"
- Width: 30"
- Height: 23"
- Weight: 48lbs
- Capacity: 9 slots

For racks smaller or larger than the 9-lite auto glass rack, please see our 5-lite windshield racks and 15-lite windshield racks. Return to the windshield rack category page, or find auto glass tools that will suit your needs.
---
We Also Recommend